A dynamic duo from Cass Business School are launching a company designed to fund coffee cups recycling through the use of advertising and helping leading charity Action for Children in the process.
CupTheMarket creators Francois de Vinols and Kourosh Madani are tackling the battle to halt Britain's annual wastage of 2.5bn coffee cups. Indeed, most cups are recyclable but people do not know that they can't get recycled unless segregated in bins just for cups.
Francois and Kourosh have teamed up with Action for Children to showcase their plan to use their cups as an opportunity for businesses and organisations to market themselves at independent coffee outlets and London universities where millions coffee cups are wasted every year. The idea is being launched at Cass Business School where cups promoting Action for Children's Fair by Five campaign will be served up to students. The charity are campaigning for child development to be a national priority. Action for Children's Sheona Michie, Head of Brand and Marketing said: "This is a fantastic opportunity for Action for Children to work with CupTheMarket in drawing attention to our Fair by Five campaign.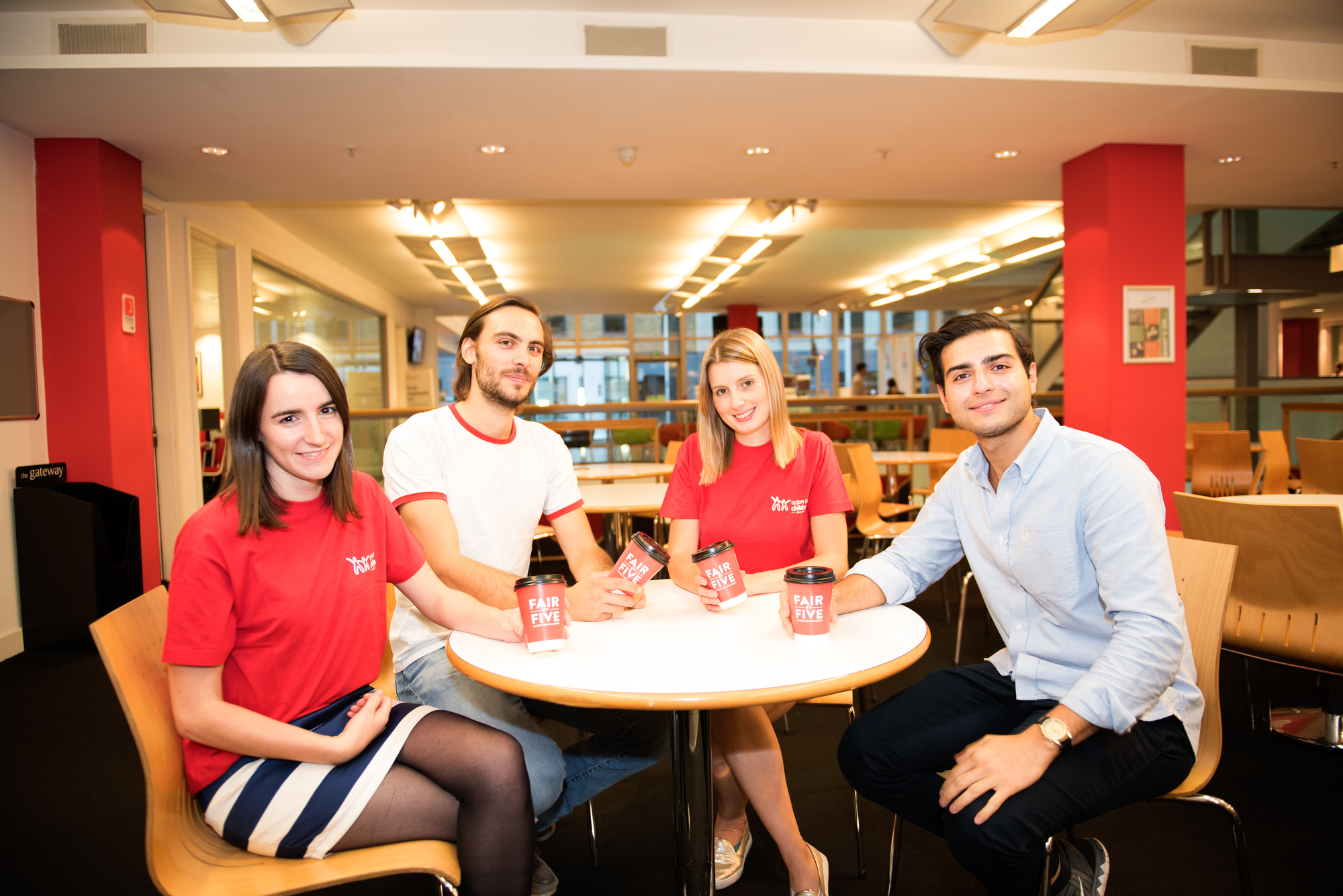 "CupTheMarket aims to convert that free advertising space available on cups into an incredibly efficient marketing medium which will in turn generate revenues to finance cup recycling. The adverts on our cups will be fun and will matter to our customers. It's time to make these cups more efficient. »
The campaign for Action for children was the perfect opportunity to test out cup recycling at Cass and get the cups collected by 'Simply Cups', the only UK company offering to pick up your used cups for recycling. With a hand full of standard bins and a little help from Cass' cleaning team, we managed to collect on average of 18 bags of cups per week, containing approx. 50 cups each
Considering Cass' sole cafe sold no more than 5000 cups during the campaign, we collected about 75% of the number of cup sold within the building. But obviously a good number of these collected cups were coming from nearby coffee outlets. The campaign too was a success, as the Fairby5's Thunderclap's social reach nearly was 1 million people.
What we are particularly proud of, is our solution to encourage students to dispose their cups in the dedicated bins, which can be implemented beyond cup recycling. We had placed signs on bins which read: » 5p donated to charity per cup ». By empowering the students and giving them that opportunity to help a charity on a daily basis, we realised that cups were falling into the correct bins more often. However, some students still misplaced other rubbishes in our « cups only bins » or also misplaced their coffee cups in the first available bin.
CupTheMarket is discussing further campaigns with a good number of brands as well as reaching more universities, with the goal to establish such recycling scheme in many UK universities. For brands, this medium is the true answer to adblockers and other forms of classic marketing that we all disregard. Companies will essentially pay to have a large scale campaign with their name and beautiful design on thousands of cups, distributed in up to 350 independent coffee shops and 7 universities (to date), while knowing that they are actually funding cup recycling in UK universities.
You love our cups and need to advertise your company? Get in touch! Francois@cupthemarket.com
You are a designer, Press/PR, or want to join the adventure? Get it touch equally!
F.V